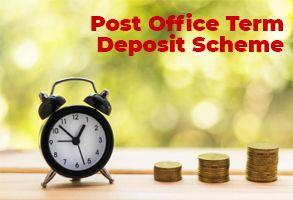 TERM DEPOSIT SCHEME
"Fixed Deposit with Government of India"
Post Office Term Deposit Scheme provides a guaranteed return on investment. 5 Year Time Deposits qualify for tax deduction under Section 80C of the Income Tax Act. The post-office term deposit (POTD) is similar to a bank fixed deposit, where you invest money for a fixed period of time, earning a fixed return through the tenure of the deposit.
At the end of the deposit's tenure, the maturity amount comprises the capital deposited and the interest it earns. The interest rate on the POTD is guaranteed for the tenure one opts for. The POTD is liquid, despite the deposit lock-in. One can borrow against the deposit or withdraw the deposit prematurely.
FEATURES
The account holder can be an individual, joint or minor above the age of 10 years

The account cannot be opened by NRIs/ HUF

The minimum amount of deposit is Rs 200/- and there is no maximum amount

The facility of redeposit is available after maturity

The account can be closed after 6 months but before 1 year without interest

Interest income is tax payable

Deposits are exempted from Wealth Tax

No TDS

Interest is payable annually but is calculated quarterly Interest rate is fixed at the time of investing and stays the same for the entire tenure

A nomination facility is available

The account can be transferred from one post office to any other in India
Product Note
Tenure : 5 YEARS
Rate of Interest :

(

1-Year 6.90%), (2-Years 7.00%), (3-Years

7.00.%), (5-Years

7.50.%)
Type of Interest:

FIXED FOR THE TENURE


Mode of Calculation:

PAYABLE ANNUALLY BUT CALCULATED QUARTERLY

Minimum Amount Required:

Rs. 1,000/- In multiples of Rs. 100/-

Maximum Amount Limit: No Maximum Limit
Who can Invest : (i) a single adult (ii) Joint Account (Maximum 3 adults) (iii) Minor above 10 years of age (iv) A guardian on behalf of a minor
Documents Required : (I) 2 photographs (ii) along with a self-attested copy of PAN Card and Aadhaar Card
POSTAL SCHEMES AT A GLANCE