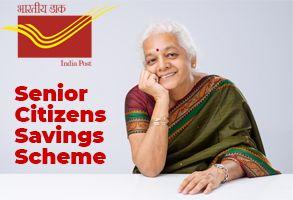 SENIOR CITIZENS SAVINGS SSHEME
"A scheme must for every senior citizen"
Investments under the post office senior citizen savings scheme (SCSS) give the rate of interest higher than a bank Fixed Deposit. It is a scheme that gives a fixed coupon rate payable on a quarterly basis and it is most recommended for all senior citizens. The rate of interest is higher than any bank deposit and a limit of Rs.15 lakh is applicable in the scheme.
The interest is taxable and no TDS is deducted from any interest payment. Retiring individuals under V.R.S age 55 years can invest within 03 months of V.R.S. with documentary evidence.
FEATURES
Main objective of its launch in 2004 was to check the decline in interest income of senior citizens

Interest is payable quarterly

Interest rate is fixed at the time of investing and stays the same for the entire tenure

Minimum deposit Rs 1000/- and maximum Rs 15 Lacs

Premature closure facility available with a penalty

Individuals of age 60 years and above can invest

Retiring individuals under V.R.S age 55 years can invest within 03 months of V.R.S. with documentary evidence

Facility of joint account with a spouse

Investment is completely risk-free

Product Note
Tenure: 5 YEARS
Rate of Interest :
(7.40.% P.A.)
Type of Interest:

FIXED FOR THE TENURE


Mode of Calculation:

PAYABLE AT QUARTERLY

Minimum Amount Required:

Rs. 1,000/- In multiples of Rs. 1000/-

Maximum Amount Limit: Rs. 15,00,000/- (15 lakh)
Who can Invest: An individual of the Age of 60 years or more may open the account or An individual of the age 55-60 years who have retired on superannuation or under VRS subject to the condition that the account is opened within one month of receipt of retirement benefits.
Documents Required : (I) 2 photographs (ii) along with a self-attested copy of PAN Card and Aadhaar Card
POSTAL SCHEMES AT A GLANCE