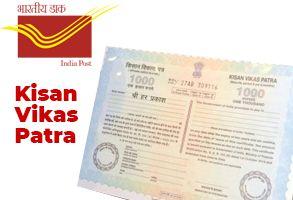 KISAN VIKAS PATRA (KVP)
"A scheme doubles your money"
Kisan Vikas Patra is a certificate scheme from the Indian post office. It doubles a one-time investment in a period of approximately 10 years & 4 months (124 months). It is an investment option that doubles the principal amount after a contracted tenure where the rate of interest is fixed.
The interest is not subject to tax deduction at source but interest is taxable. The premature withdrawal is allowed after 2.5 years and there is no limit on investment. It can suit investors with some long-term goals and wants a targeted amount after a fixed tenure.
FEATURES
Money gets doubled in fixed tenure

Encashment facility available after 2 years 6 months

Can be purchased by individuals, 2 adults jointly, or minors over the age of 10 years through a guardian

Cannot be purchased by companies, societies, trusts, NRIs, HUFs

Facility of reinvestment on maturity

KVPs can be transferred from one person to another

Interest income is taxable but no TDS

Interest is fixed at the time of investment

Deposits are exempted from wealth tax

Nomination facility is available

Facility of getting a duplicate KVP is available in case of loss of the original one

Facility of purchase/payment of KVP to the holder of a power of attorney

Product Note
Tenure: 124 MONTHS
Rate of Interest :
(6.90.% P.A.)
Type of Interest:

FIXED FOR THE TENURE


Mode of Calculation:

COMPOUNDED ANNUALLY BUT PAYABLE AT MATURITY

Minimum Amount Required:

Rs. 1,000/- In multiples of Rs. 100/-

Maximum Amount Limit: No Maximum Limit
Who can Invest : (i) a single adult (ii) Joint A Account (Maximum 3 adults) (iii) Joint B (Maximum 3 adults) (iv) Minor above 10 years of age (v) An adult on behalf of a minor
Documents Required : (I) 2 photographs (ii) along with a self-attested copy of PAN Card and Aadhaar Card
POSTAL SCHEMES AT A GLANCE