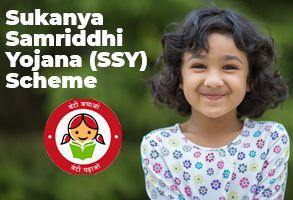 SUKANYA SAMRIDDHI YOJANA (SSY) SCHEME
"A scheme for a Girl Child"
Sukanya Samriddhi Yojana (SSY) is a savings scheme launched back in 2015 as part of the Government initiative Beti Bachao, Beti Padhao campaign. A scheme for a girl child should opt for everyone who is blessed to have a daughter. The child should be below10 when such a scheme can be taken in the name of the child with the guardian.
The scheme matures on the attainment of 21 years and a maximum of Rs. 1,50,000/ can be invested every year. The interest rate is tax-free and is on a floating basis which is announced by the MOF annually. The scheme can be taken for two daughters in a family.

FEATURES
The account can be opened by a parent or legal guardian of the girl child

The girl child must be below the age of 10 year

Only one account is allowed for a girl child

A family can open only 2 SSY scheme account

The account matures after 21 years of opening the account or in the event of the marriage of the girl child after she gains the age of 18 years

A premature withdrawal of up to 50% of investment is allowed after the child gains the age of 18 years even if she is not getting married

Interest is floating and is accrued as per the prevailing rate of a particular financial year

Interest is tax-free

The principal amount is deductible under section 80C up to Rs 1.5 lakh

Minimum Investment: Rs 1,000/- per annum

Maximum Investment: Rs 1.5 lakh per annum

Product Note
Tenure:

21-Years
Rate of Interest: @ 8.00% P.A.
Type of Interest: FLOATING RATE DURING THE TENURE

Mode of Calculation:

COMPOUNDED ANNUALLY BUT PAYABLE AT MATURITY
Minimum Amount Required: Rs. 250/- in a financial year
Maximum Amount Limit: Rs. 1,50,000/- in a financial year
Who can Invest: A Guardian can open up to two accounts in the name of two different Girl Children. The account can be opened up to the age of 10 years only from the date of birth.
Documents Required : (i) 2 photographs (ii) along with a self-attested copy of PAN Card and Aadhaar Card
POSTAL SCHEMES AT A GLANCE