The times of high yields are the best time to lock funds for a longer duration
Rising interest rates present a great opportunity for prudent investors today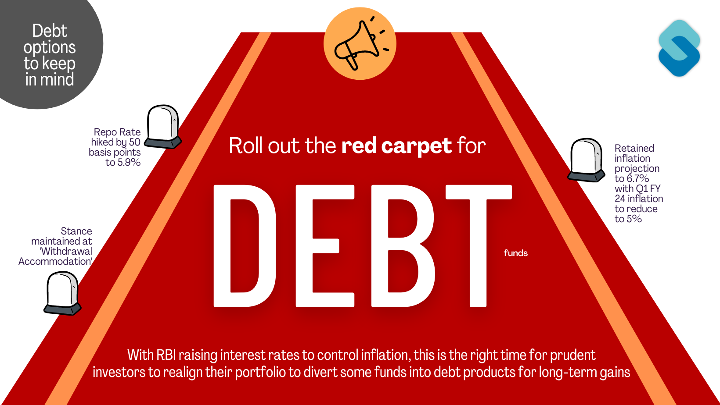 With the rising interest rates over the last six months, today it's important for investors to lock in their monies for a longer period of time to make use of the high yield cycle that presents a great opportunity for investors today.
For some time now buoyed by the vibrant equity market, especially post pandemic, investors have held back on the debt part. Now is the right time for prudent investors to realign their portfolio by allocating incremental funds and park them for longer duration.
Why invest in debt funds now?
After low-interest rates for quite a while, we are finally at a place where inflation has brought the rates into the limelight. It started in May FY22 and by June had 90 basis points added. Another hike was announced within the next two months. This 50 basis point rise has made it evident that investors must look into high-interest options. To control the inflation rate in India, the RBI has increased interest rates. In March 2022, interest rates were around 6.9%, and experts feel that they are likely to go up as the year goes along.
Where to Invest?
It is essential to diversify your portfolio for minimum risk and maximum returns. Here are some types of debt options that you may consider.
Corporate FD: This is the most popular option among lower tax slab investors. Interest rates are high and work well for both the short and long term.

Fixed Maturity Plans (FMPs): It is best suited for high tax slab investors with the capability of holding for a minimum of three years. The returns upon maturity are attractive, and the indexation cost is also very low.

Target Maturity Debt Funds: These are passive savings instruments that provide sufficient visibility on returns. These are becoming increasingly popular and are mobilising more funds through a rate-tightening cycle that still seems a bit away from the peak. According to estimates, savings in these mutual fund plans are around ₹45,000 crore, with SBI Funds Management taking the lead.

Bonds: Investing in bonds may get a little challenging as bonds are generally traded in the secondary market. You can check the rating of the paper to make an informed decision.

Small saving schemes: Post office schemes and RBI bonds should also be seriously considered while you  think of investing long term

Tax-free options: A popular option for high-net-individuals, as on average, investors with more than Rs. 5 crores to invest pay a huge income tax of 43%. This is why tax-free options are becoming popular in the secondary market.
It's important to hold on for the long term. If you have invested or wish to invest even in corporate FD, you will reap the benefits of compounding. With a 5.24% average return rate over five years, it remains a great investment to make in FY22.
Combine these high-yield plans with tax-free investments to grow your portfolio and save a portion of your taxes. These benefits add up, and you get a better value if you lock it in for the long term.